Dep. Richard Triplett
I have been in Law Enforcement for 7 years (since 2015) and work at the Orange County Sheriff's Office. I bought my first motorcycle (Harley Davidson Heritage Softail) in the beginning of 2015. I have experience riding Harley's and Street Bikes. After purchasing the Harley, I took a basic riding course through Harley Davidson. I rode for several years, and the opportunity arose for me to be on the Motor Unit at the Orange County Sheriff's Office. I went to Basic Motor School put on by North Western, at the NCSHP's training track. This school was 2 weeks long, and very intense, physically and mentally. To complete the school we had a variety of different cone courses and exercises that had to be completed on a Harley Davidson Road King. The exercises consisted of cone courses with 180, and 360 degree turns in multiple configurations. Several of the courses involved braking and evading where a certain speed had to be met and then braking to miss obstacles. During the class we also drove the Road Kings off road, through grassy areas, paths through the woods, and up steep embankments. After completing the Basic Motor Operator School, I took an advanced Motor Operator Course. This Course fine tuned already learned skills. Some of the cone courses were the same, but the cones were closer together and all of them had to be done in one single run. During the timed run, hitting cones added to your final time. We used our issued motorcycles through the Sheriff's Office (Harley Davidson Street Glide) to complete this course.

I have a range of experience from personal to Law Enforcement. I have done a wide range of escorts and events. I enjoy what I do and try to have as much fun doing it as I can.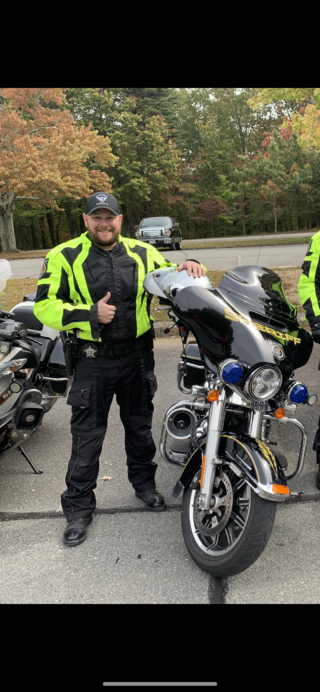 Click to see full-size photo