Officer Brack was born and raised in Gastonia, NC. He has been riding motorcycles since 2011. Officer Brack received a bachelors degree in Criminology from North Carolina State University.

Officer Brack joined the Gastonia Police Department in 2015 after graduation and attended Basic Law Enforcement Training at Gaston College. Upon completion he was assigned to the patrol division.

Officer Brack joined the Traffic Enforcement Bureau in 2019. He is currently certified in the use of RADAR, LIDAR, Time-Distance, SFST, ASTD, and ARIDE. Officer Brack completed Traffic Crash Reconstruction in 2018 and Motorcycle Crash Investigation in 2020. He also completed Basic Police Motorcycle Operator Training, an 80 hour course, in 2021.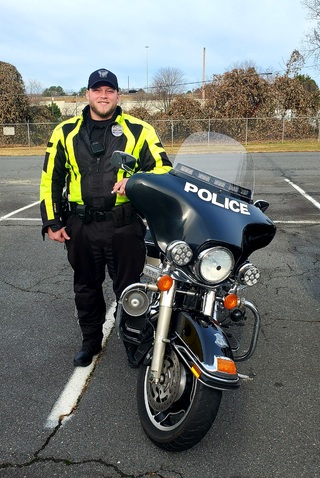 Click to see full-size photo
---