Ofc. Zachary Stanley
Zachary Stanley has been with the North Carolina State University Police Department since 2016. Officer Stanley served on Patrol from 2016-2018 where he focused patrol efforts on traffic safety, education, and the reduction of traffic crashes. In 2018 Officer Stanley assisted the North Carolina State University Police Department with the creation of its first ever Traffic Safety Unit. Officer Stanley currently serves on the Traffic Safety Unit where he conducts traffic crash investigations, conducts monthly traffic crash analysis, reviews traffic crash reports, enforces motor law, and conducts traffic safety programs.

Officer Stanley attended Dual Sport Motorcycle School with the Charlotte-Mecklenburg Police Department in 2018 where he became certified as a Motorcycle Officer. Officer Stanley also holds certifications in RADAR, LIDAR, Standardized Field Sobriety Testing, Advanced Roadside Impaired Driving Enforcement, Alcohol Screening Test Devices, Chemical Analyst, and Data Driven Approaches to Crime and Traffic Safety.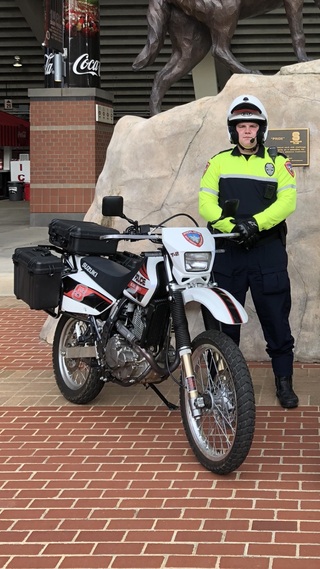 Click to see full-size photo