My law enforcement career started in 1993 in Bailey NC. In 1995, I moved to Goldsboro Police Department where I worked predominately as a patrol officer and a patrol supervisor until 2005. During that time, I had the opportunity to become a NC General Instructor teaching in the Basic Law Enforcement Program at Wayne Community College.

In 2005, I was hired by Wake Forest NC Police Department becoming a training coordinator for the department in 2007. The training coordinator position allowed me to learn new functions and acquire nearly all specialized instructor certifications in North Carolina. Many opportunities came with a specialized position such as attending the Administrative Officers Management Program, AOMP, through NC State University in 2008. During that time, I also completed my Bachelors Degree at Western Carolina University.

In 2019, I transferred to a newly created position overseeing the departments traffic enforcement unit, which had expanded due to growth of the town and organization. Part of the traffic unit responsibilities was oversight of the police motorcycles. Since I had been a motorcycle rider for most of my life, I was given the opportunity to attend a police motorcycle school ran through NCSHPs basic police motorcycle school.

I began riding at 6 years old on a 1970s Honda Mini-Trail motorcycle. Eventually, that allowed me to transition to riding various dirt bike motorcycles, 3-wheelers, and 4-wheelers. During that time, I did some amateur racing. I have experience riding dual-sport, cruiser, and sport touring motorcycles such as our departments BMW motorcycles. This has also given me the opportunity to train my son to ride a dirt bike giving him a wonderful experience.

I also spend time cycling, which closely correlates to riding a motorcycle. In the last year, I also attended and graduated from the 273 session of the FBI National Academy. My wife does not share my enthusiasm for riding motorcycles, but we do share the idea not to take any unnecessary risks while riding a motorcycle.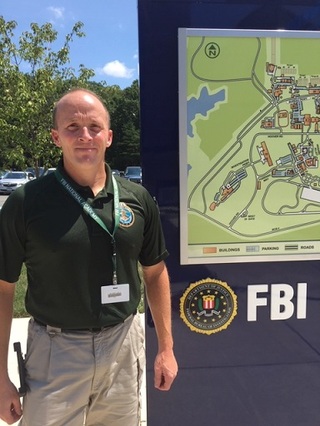 Click to see full-size photo
---