Terry began his law enforcement career in 1986 after serving with the US Army's 82nd Airborne Division. Terry worked two years with the Buncombe County Sherriff's Dept. before leaving and joining the NC State Highway Patrol where he retired as a Sergeant in July 2013.

Terry has worked with other law enforcement agencies after his retirement and he completed the Police Motorcycle Operator Training Certification through Northwestern University in 2021.

Terry has been riding motorcycles since the mid-1980's and he rides the Police Electra Glide and BMW RT-P on duty and regularly rides his Harley Davidson Road Glide with his wife when off duty.

Terry is also a Law Enforcement Specialized Driving Instructor where he taught at the NC State Highway Patrol Driving Track in Raleigh for 19 years and is currently the lead Driving Instructor at Blue Ridge Community College.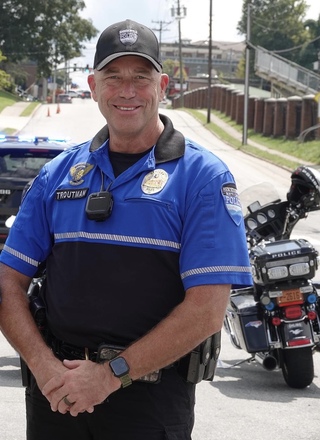 Click to see full-size photo
---